What's New
Dive into the Big Oxplore Essay Competition!
We're delighted to announce the launch of our ocean-themed essay competition for secondary school students in Wales and the South West of England. This is inspired by our upcoming Big Question: Should we put our ocean first?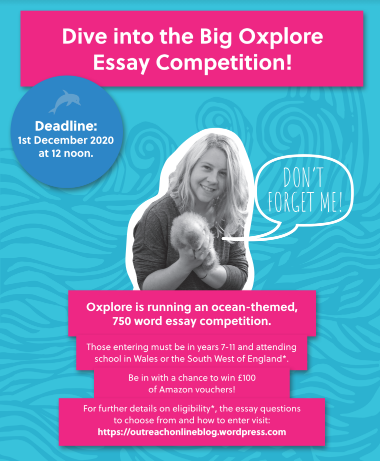 Here is a downloadable competition poster that you could display in your school. 
We are inviting students in years 7-13 to write a 750-word response to one of the following essay titles:
Was an 'Age of Exploration' a positive development in world history?
Should we prioritise ocean over space exploration?
Should individuals take more responsibility for protecting the ocean?
All entries should be emailed to oxplore@admin.ox.ac.uk by 12 noon GMT on 1 December 2020. Please remember to include your name, school name and school year with your entry.
Entries will be reviewed by our expert judging panel. There will be two age categories: years 7-9 and 10-13. The winners will receive £100 in Amazon vouchers and the runners-up will receive an ocean-themed goody bag.
For more information and guidance, visit https://outreachonlineblog.wordpress.com/ 
Free online events
Oxplore's most recent interactive online event for schools took place on Wednesday 7 October 2020. We discussed the Big Question 'Could there be real-life X-men?' with a panel of academics from the University of Oxford. You can watch this Live Stream again here!
You can also catch up with our past live events on our YouTube channel.
Hot off the Big Question press
Our newest Big Questions are:
We're working on this right now:
Should we put our ocean first?
Could a country disappear?
Don't forget, you can submit your own Big Questions too!