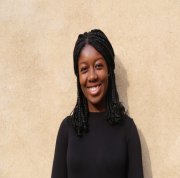 " English and French was ideal for me as I always have my nose in a book. What interests me the most about literature is the diverse range of stories that it offers and the fact that it crosses so many different disciplines - through the books I have read I have learnt more about history, philosophy, society and its different cultures. Being able to study French alongside English Literature has also opened up a whole new world of books from the French-speaking world that I previously would not have had access to. "
- Georgina Ramsay, English and French
If you want to find out more about identity, race and explore what it means to be 'British', Georgina recommends:
Noughts & Crosses by Malorie Blackman
This dystopian fiction is set in an alternative British society and challenges our understanding of race and identity.
Brit(ish) by Afua Hirsch
Afua Hirsch explores identity on a personal and political level investigating what it means to be 'British'.
The Good Immigrant by Nikesh Shukla
A collection of essays by British Black, Asian and Minority Ethnic writers and artists reflecting on race, immigration and identity in twenty-first century Britain.
About Race with Reni Eddo-Lodge Podcast
Journalist and writer Reni Eddo-Lodge explores history in order to answer current questions about race and identity.
Enjoyed this Big Question? University study offers the opportunity to ask all your big questions, and develop the skills to find the answers. The university subjects covered in this question include…
Modern Languages
Studying languages at Oxford provides practical training in written and spoken language as well as an extensive introduction into literature. Find out more on their course page.
English Literature
The study of texts and their contexts from the very beginning of English literature to the present day. Find out more on their course page.
Geography
The study of geography is diverse including investigation of the natural environment as well as the way in which the world and society continues to change. Find out more on their course page.
History
The study of various regions of the world over an extended period of time to develop an awareness of differing political, cultural, social and economic structures in past societies and their interrelationship. Find out more on their course page.
Philosophy
Consider important questions about how we gain knowledge and form moral judgements alongside the study of religion and religious traditions. Find out more on their course page.
Should you have to|be British to live|in Britain?
Vote now