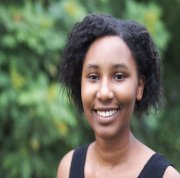 "I decided to study English Literature because I love reading and learning what other times were like through literature. Here at Oxford we look at each period of literature for a whole term, from early medieval times with texts written in Old English, such as Beowulf, to books published much later in the 21st century. We also get to dabble in many other subjects in terms of historical context and sociology and theology in terms of learning about the beliefs and worries of readers in each time period and how they affected how books were written and how the literature was read."
- Serena Arthur, English Language and Literature
If you want to find out more about how much value race should have, Serena recommends:
The Hate U Give by Angie Thomas (2017)
A popular, powerful and award-winning young adult novel that tackles topics that are extremely important in the 21st century, such as racism, prejudice and police brutality.
The Good Immigrant by Nikesh Shukla (2016)
In this collection of personal and striking essays twenty-one BAME (Black, Asian and Ethnic Minority) writers explore what it is like to be an ethnic minority in Britain today.
The Colour Purple by Alice Walker (1982)
This Pulitzer Prize winning novel, tells the story of Celie, a black girl born into both poverty at time of segregation and its publication made Alice Walker a well-known name.
Enjoyed this Big Question? University study offers the opportunity to ask all your big questions, and develop the skills to find the answers. The university subjects covered in this question include…
Biological Sciences
The study of living things, including areas such as cell biology, developmental biology, evolutionary biology and ecology. Find out more on their course page.
English Language and Literature
Develop refined reading skills, the capacity to place literary texts in their wider contexts and the ability to critically comment on texts from any time period. Find out more on their course page.
History and Politics
Find out about and research contemporary political problems in their historical perspective, but also get an insight into them using political science. Find out more on their course page.