Missive from a militant - a testimony from the first British suffragette revealed
Annie Kenney was a working-class activist who became the first woman put in prison for campaigning for the vote. A letter from her is on public display for the first time after an Oxford historian named Dr Lyndsey Jenkins found it during her research...
Annie Kenney was sent to jail after she and Christabel Pankhurst (another important figure in the suffragette movement) attended a political meeting. They asked whether the government would give votes to women. The speaker refused to answer, and the women were thrown out of the hall. They were put in prison because Christabel Pankhurst spat at a policeman. The incident is now widely seen as the first militant action, and the women became instantly famous around the world. They received lots of public sympathy. With the first use of the demand 'votes for women' on a placard, the two women created one of the most memorable political slogans of all time. They started a revolution!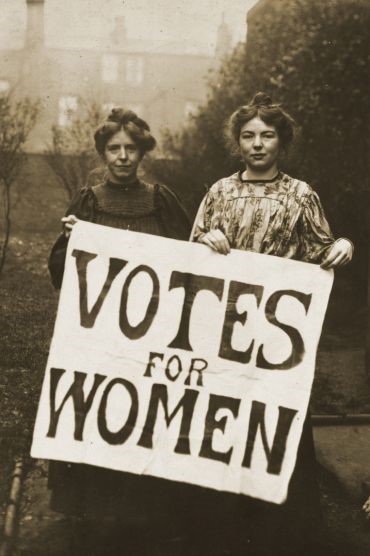 Image credit: Public domain via Wikimedia Commons
This letter was sent by Annie Kenney to her sister Nell in October 1905. She wrote: "you may be surprised when I tell you I was released from Strangeways [prison] yesterday morning". We see the emotional impact of Annie's experience in prison. She is happy that her actions affected the local community in such a positive way.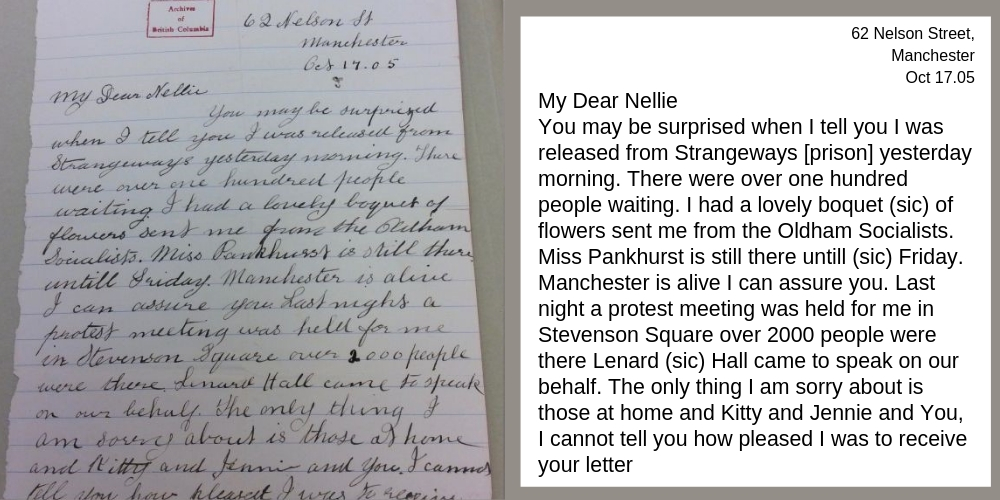 The second page of the same letter. Kenney is grateful for her family's support, but also writes that her other sister Alice was "awfully angry" about the incident.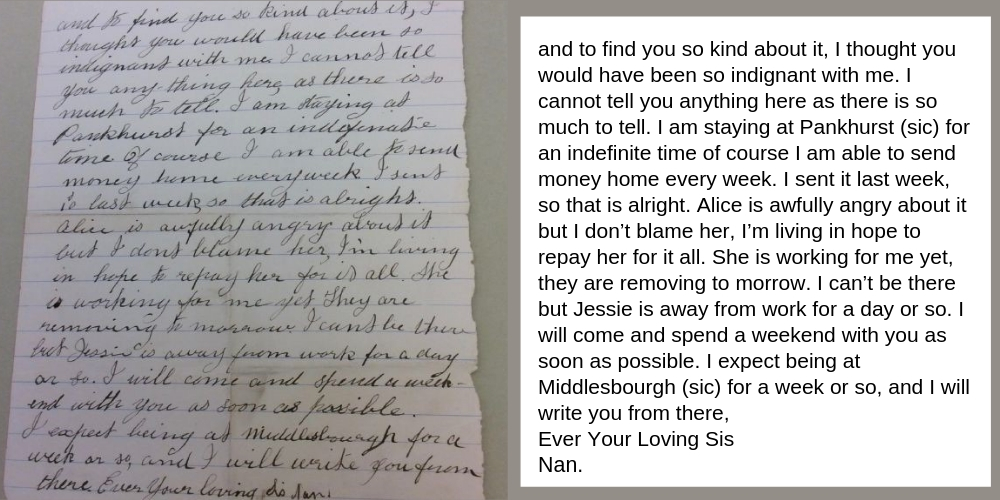 Annie Kenney then became a key leader of the Women's Social and Political Union (WSPU). After Christabel Pankhurst fled to Paris in 1912, Kenney led the organisation through its most difficult years. She went back to prison several times, went on hunger strikes that ruined her health, and eventually spent a year on the run from the authorities as a 'Mouse' released under the famous 'Cat and Mouse Act'. This Act meant that when suffragettes went on hunger strike and were released from prison when they appeared weak or ill, they would be found and put back in prison. Kenney was not active in politics after the vote was won for some women in 1918, but remained loyal to the Pankhursts and the WSPU for the rest of her life.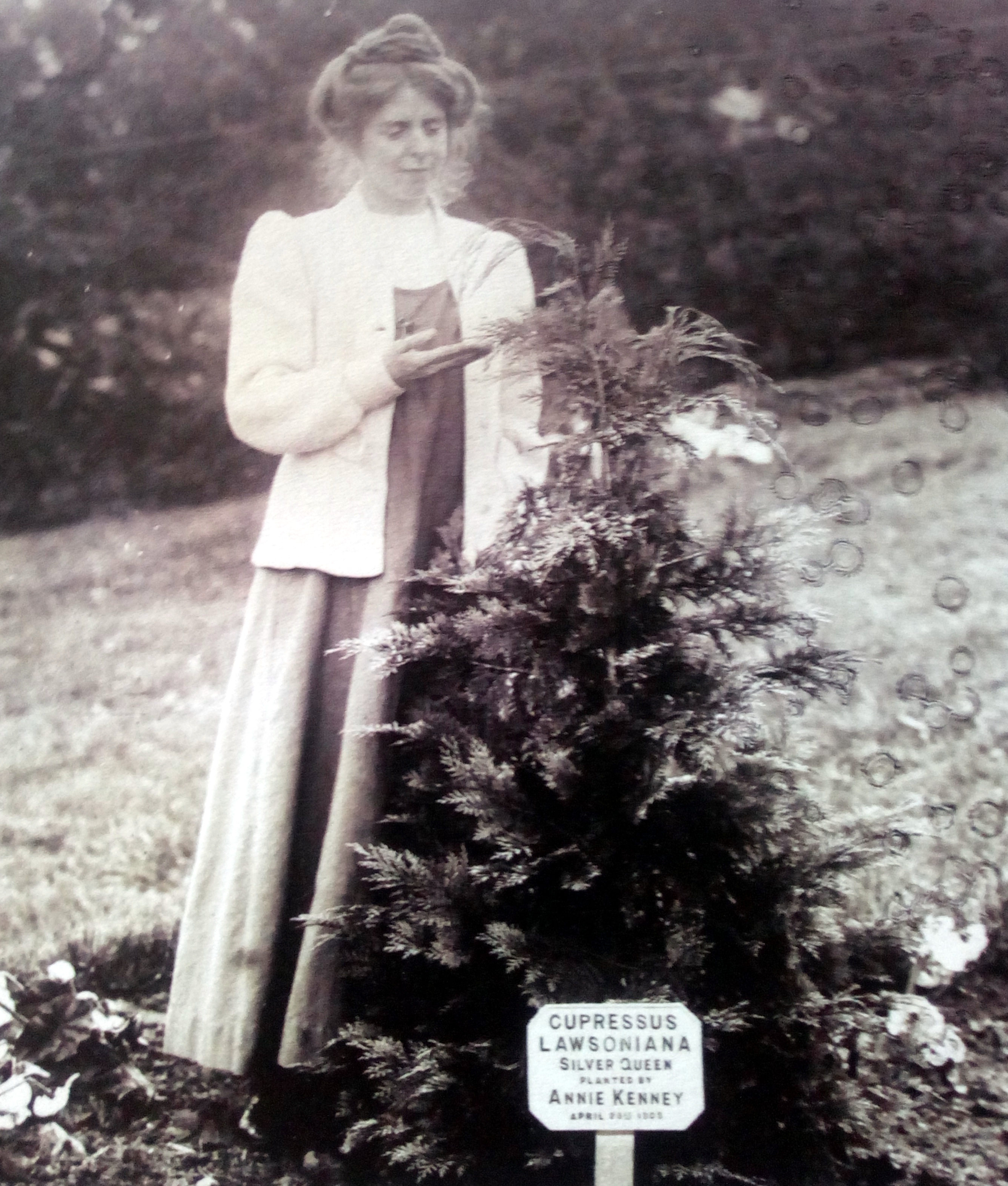 Image credit: Public domain via Wikimedia Commons
Kenney's letter shows the close and loving relationships between members of the Kenney family. Their background was in the mills of Oldham in Manchester. Several of Kenney's relatives went on to have important careers in politics and public service. The youngest sister, Jessie Kenney, was another leading suffragette who became famous for her bravery. For example, she dressed up as a telegraph boy to try to heckle the Chancellor at the time, David Lloyd George. She also attacked Prime Minister Herbert Asquith on his holiday.
Helen Pankhurst is an author, academic, granddaughter of Sylvia Pankhurst and a leading campaigner for women's rights. She said: "One hundred years on from the first women winning the vote, we are still learning more about the remarkable women who led the campaign for us all to have that right." She also writes: "As we mark the centenary [hundred-year anniversary] of their success, it is right that we remember their sacrifices and remind ourselves that women in the UK and around the world are still taking those risks to achieve true equality for all."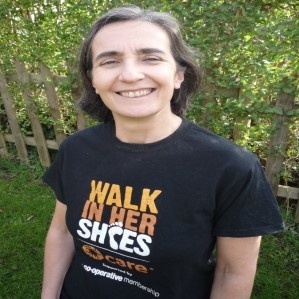 Image credit: Public domain via Wikimedia Commons
"Deeds Not Words" was another slogan used by Kenney, Pankhurst and other suffragettes. It's also the name of Helen Pankhurst's book about the movement. She questions why, after several waves of feminism throughout the last hundred years, women still haven't achieved equality. The pay gap is seen to be one of the areas in which women are still striving to be equal to men.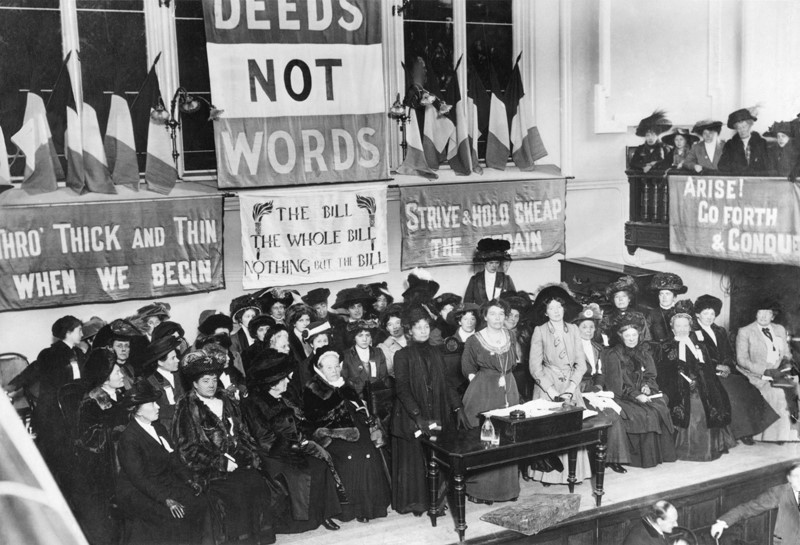 Image credit: Public domain via Wikimedia Commons